Almost 40 years after Michael Jackson performed his iconic moonwalk for the first time on stage, one fan could get to relive the experience.The custom-made, crystal-covered socks Jackson wore at the legendary "Motown 25: Yesterday, Today, Forever" TV special in 1983 are now hitting the auction block.Michael Jackson's Socks Auction
Jackson wore the socks during the debut of his infamous "moonwalk" while performing Billie Jean on the 1983 TV special, "Motown 25: Yesterday, Today, Forever"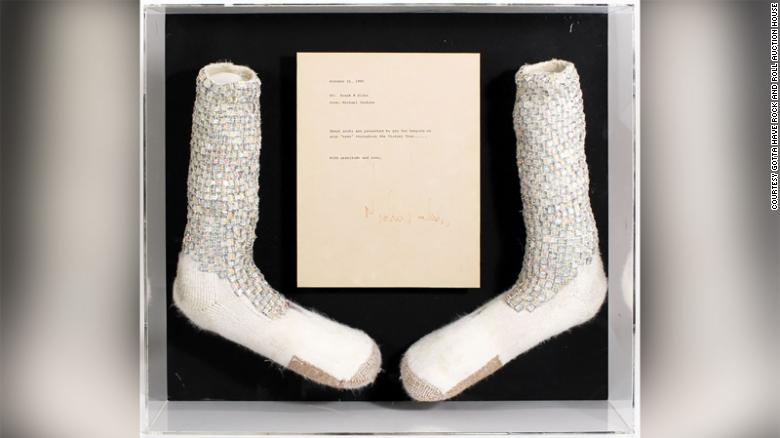 And these socks won't come cheap. Gotta Have Rock and Roll, the online auction site offering the socks, estimates the pair will go for upwards of $2 million.The auction starts November 13, and bidding is set to begin at $100,000.Ed Kosinski, CEO of Gotta Have Rock and Roll, said the socks look "heavily worn," but he couldn't say for sure how often they were worn after the Motown show.
The socks aren't the only Jackson memorabilia to go on sale. His "Suit of Lights" from his "Victory Tour" era is expected to fetch upwards of $20,000. A Chicago Bulls jersey signed by Jackson and Michael Jordan is also expected to get up to $20,000. Michael Jackson's Socks Auction
RELATED: Teen highschool shooter who killed 10 and injured 13 is found incompetent to stand trial
The socks are a part of the Frank DiLeo collection. The sale of the socks will include a certificate of authenticity and a letter from MJ to Frank, who signed Jackson to Epic records and managed him from 1984-1989, that thanks DiLeo for keeping him "on my toes" during his Victory Tour.
The auction runs from November 13th – 22nd